Denver's Original Home for Improv and Sketch Comedy and the Largest Improv School in the Region!
Hello, Jolly! plays on Thursday, Friday and Saturday nights at 8pm through December 21 with two encore performances on Sunday, December 22 at 4pm and Monday, December 23 at 8pm!
Enjoy everybody's favorite, On the Spot, plays every Friday and Saturday at 10:15pm!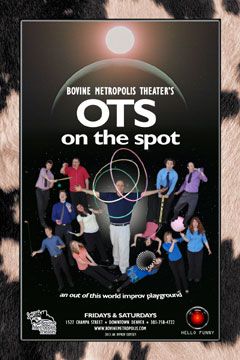 Improv your night by laughing at one of our smart, funny and unscripted improv shows 5-6 nights a week. We have a variety of improv shows to chose from. Shows are for all ages and tickets run from $8 to $20.
Improv your business by inviting us to help make your next corporate event funand successful. Add some spontaneity to your meetings, events and training. Get your team energized and re-engaged.
Improv your life: Someone once said "Life is Change" (I think it was Mr. Miyagi from The Karate Kid). Enjoy in the thrill of creating change! Laugh and grow in our Level 1 improv classes starting every 3 weeks. Embrace play with lessons in improvisation.
Bovine Metropolis Theater is your improv comedy experience in the heart of Downtown Denver's Theater District. Life is spontaneous--shouldn't your comedy be too? The Unexpected Happens here!
We are the most fun place to watch, learn and perform improv in Denver. Bovine Metropolis Theater is your Denver Home for Improv, where you can Laugh, Play, and Succeed! Moo.

---