SuperBaby
Improv, Freestyle Rap, Comedy
SuperBaby has created a new improvised show featuring freestyle rap throughout and the show is building momentum faster than a Busta Rhymes lyric. SuperBaby uses freestyle rap and hip hop music.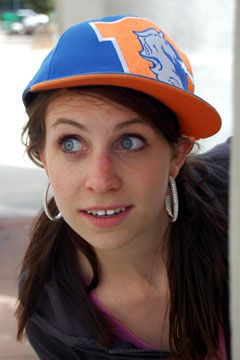 Our fellow SuperBaby member: Kim Kutt, is moving to New York! We are very excited for her, and want to have one final performance before she leaves. Be sure to come check us out on Sunday 1/20/13, for a very special SuperBaby show! Enjoy live entertainment from five of Denver's most talented improvisors! (Kim Kutt, Max Schwartz, Rollie Williams, Megan Miles, and Chris Woolf)
SuperBaby's long-form improv and free-style rap skills will brighten your Sunday for sure! Don't miss out on this special performance! All the cool kids will be there!
Bovine Metropolis Theater is located at 1527 Champa Street in the heart of the Denver Theatre District. For tickets and more information about Bovine Metropolis Theater, call 303-758-4722 or visit their web site at www.bovinemetropolis.com
Parental Advisory: Explicit Lyrics. These SuperBabes aren't afraid to curse.
Tickets: $10
Ages: Adults Only!!